As you dive into reading this guide, please understand that the intent is different from any other article, post or blog about the Veterans Administration (VA) Loan that you have read. This is not simply another tool to teach you about buying a home with this amazing loan product. The Active Duty Passive Income (ADPI) team recognizes and reinforces that the VA Loan can be one of the best tools for service members, past and present, and their families to get started with real estate investing, so we wanted to take extra care and attention when writing this guide.
The intent behind the content you are about to read is to arm you with knowledge that will further your journey towards financial freedom and make a lasting impact in your family legacy. You will learn the basics about the VA Loan and investing strategies and methods that the ADPI community has successfully employed repeatedly and with intention.
NOTE: The VA Loan was not created specifically to be used as an investment tool and is, and always has been, an owner-occupied loan product. All regulatory guidelines from the VA and individual lenders must be closely followed when using this product. To connect with an approved lender, please contact the ADPI team.
What makes this guide unique:
1. This guide is centered around creating passive income. More specifically, it's about generating monthly cashflow from real estate investments in which you have used the VA Loan to purchase. The VA Loan can be a powerful tool in a service member's toolbox, so understanding how it can fit into a real estate investing strategy to help achieve a financial freedom outcome is critical; it's also underutilized and these principles are rarely taught.
2. This guide will be continuously updated. As the ADPI team encounters unique situations, opportunities, and challenges from our own experiences and that of our community members, loan officers and real estate agents, we will update this guide with those lessons learned.
3. All suggestions and clarifications are welcome! If there is something that you feel is missing, needs clarification or correction, please feel free to reach out to us about it at [email protected], and we will do our best to refine the information.
The VA Home Loan Overview
One of the most useful benefits a service member can receive is access to the Veterans Administration Home Loan (VA Loan) to purchase a primary residence. This is a federally backed loan product that boasts competitive interest rates, with no down payment, yet demands no mortgage insurance (MI). The VA Loan can also allow service members to start leveraging equity in a home, which can then help build generational wealth for their family.
Why is this so exciting? Leverage is one of the most powerful wealth-building tools in America; buying a home with the VA Loan, smartly and with intention, can maximize leverage, eliminate common barriers to entry, and help keep some hard-earned cash in the pockets of our service members.
Additionally, if the principles taught by Active Duty Passive Income (ADPI) are applied properly and within the guidelines of the VA and lender, the purchase of a single family home, duplex, triplex or fourplex with a VA Loan could also become an excellent cash flowing investment.
For those service members who have read the #1 bestselling book, Military House Hacking (free on the ADPI website), they will understand how this process can help slowly build a rental property portfolio to ultimately achieve financial freedom. These topics are also discussed in Part 2 of this guide.
Buying a new home with the VA Loan is likely one of the most important decisions in a service member's life. If not done properly, with care, diligence and intention, a home purchase could become more of a liability than a future asset – and we see it all the time, which is why ADPI has assembled this and many other resources.
Finding the right home to purchase as we PCS around the U.S. (or after service as a Veteran) can come with challenges if not analyzed correctly, but it could also simply not be a wise investment. With the right education and support, the ADPI team, based on personal application, believes that there is almost always a deal to be found if the right strategy is applied. And the VA Loan can help.
What Exactly Is A VA Loan?
First off, the VA is not a lender; it does not provide loans to service members. A VA Loan is a loan that is backed by the United States Government, specifically the Veterans Administration Department, that comes with its own set of guidelines. In other words, it's a loan that, once initiated, approved and processed, is federally backed.
But what does that mean and why is that important? If a homeowner defaults on that loan, the VA is guaranteeing to pay the bank up to 25% of the original loan amount lost in the transaction. That is a major benefit to a lender. Because of this, lenders should be more willing to give you a new home loan if they know that there is a (VA) guarantee.
There are some qualifications that you must meet on several different fronts, which will determine your eligibility for a loan, which is discussed below. Once you have proven eligible, connected with a lender, obtained a pre-approval, you can meet with a real estate agent and begin the buying process.
NOTE: it is not required to be pre-approved before working with an agent, but it's highly recommended. The vetted, investor-savvy agents and lenders that work with the ADPI community can guide you through the process and can help you find a property that fits your investment strategy, budget and personal goals.
The reality is, going through the process of purchasing a new home can be very stressful.
Even though you have a federally backed loan product, that does not mean the seller of the home you want to purchase will care (more on that later); they might still simply be looking for the highest price. So, throughout the home buying process, stay the course, manage emotional expectations, focus on the long term result, be prepared for some stress, and make sure your first step is finding a fantastic lender and agent team to get you to the finish line!
First, let's discuss some of the benefits to this loan product in more detail.
The Benefits of the VA Loan
After we clarify all the benefits of the VA Loan, you will realize what a shame it is that less than 13% of service members who are eligible for the VA Loan take advantage of this incredible tool.
The primary benefits of a VA Loan are:
No Down Payment

– One of the most fascinating things about the VA Loan is the no down payment option. When you use a conventional loan to buy a home, they will require a downpayment between 3%-20% of the purchase price. Depending on the size of your home, this could be more money than you have on hand. With the VA Loan, you can put money down (i.e. to manage the monthly payment amount or reduce the funding fee), but it's not required.

No Mortgage Insurance

– Another great benefit of the VA Loan is that you aren't required to pay mortgage insurance (MI). If you pay less than 20% of the purchase price as a down payment with other loan types, you must pay mortgage insurance. This extra payment – which essentially uses insurance to "hedge" the risk from the lender to the borrower on higher risk loans – can add significantly to your final monthly payment amount. MI will protect the lender if you are unable to make the payments on your home. Since the VA Loan does not require MI, you can save substantially.

No Prepayment Penalty – Often, Veterans use the VA Loan to get started with their first primary residence. Whether PCS'ing, changing job locations as a Veteran, upsizing or downsizing properties, or using Military House Hacking™ strategies, there won't be a penalty for paying back the VA Loan early.
Different Loan Types

– The VA offers fixed or adjustable rates and can be used for several different types of home loans which are discussed below.

Easy to Qualify

– The barrier to get a VA Loan is one of the lowest in the industry. The VA guarantees the loans up to a certain threshold, meaning that if you default on the loan, the bank will still get part o

f

their money back. This makes lenders more likely to offer loans to eligible vets even with lower credit scores than conventional lending would allow and even borrow more.

Choose your lender wisely

– Different lenders and brokers will offer different rates for VA Loans. Be sure to connect with a vetted, knowledgeable, and experienced

military-focused lender

.
Now you understand why this product is great, but how do you know if you are eligible for a VA Loan?
VA Loan Eligibility
Determining VA Loan eligibility is the first step when beginning the process. The Veterans Administration has established a set of criteria, both service-related and financial, which determine whether the Veteran or service member is eligible to buy a home using the VA Loan. The lender, separately, has criteria that must be met.
Here are some essential documents that you might be required to present to a lender when you begin the process:
DD Form 214

– A "DD214" is a document given to a Veteran when they end their active duty service. It shows where they served and what kind of discharge they received when they left the military. This discharge information is imperative as those with a "Dishonorable" discharge status are ineligible. [If you are still active, in lieu of the DD 214, you will need to apply for a Certificate of Eligibility (COE) from

www.ebenefits.va.gov

or you can apply by mail VA form 26-1880.]

VA Form 26-1880

– The

26-1880

is a request document for a Certificate of Eligibility. Obtaining a COE is another step that will be necessary in the loan pre-approval process. This is simply a letter from the Veteran's Administration that lets the lender know that you meet all the VA requirements to receive access to using the loan product. A good lender will help the Veteran or service member get their COE.

VA Form 28-8937

– The

28-8937

may be needed for those who have service disconnected disabilities that could require adaptive modifications to be completed on the home. For example, if your new home needs to have an access ramp installed, this would incorporate that cost into the loan amount, to be financed with the purchase of the home.
VA and Lender Requirements
As mentioned above, the Veterans Administration has service-related and financial guidelines of their own that must be met. Their standards will determine your connection (or your spouse's in some circumstances) to the military service along with how long you served. Once again, your discharge information is going to be necessary. Your discharge status could mean the difference between receiving eligibility or not.
VA's guidelines for service length criteria:
Served 90 consecutive days during wartime (just reduced in 2021 for Guard to 30 days)

Served 181 of active service during peacetime

Obtained a minimum of 6 retirement points while reservist or guard member

Spouse of a Veteran who died in the line of service
Once you have met one of the above requirements and have all of your financial documentation in hand, this is when you would apply for your Certificate of Eligibility (28-1880) described above. This certificate can be obtained through the VA, or if you choose a Veteran's Administration approved lender, they can take care of the COE for you! Using a qualified lender can make the process much more comfortable.
If you are ambitious, you can also attempt to apply for all the needed documents through eBenefits or VA.gov; you will just need your login information to access them. Another way is to send all your applications and paperwork through the mail, but this takes much more time. If using the mail, please have all documents sent with signature approval and be sure to make copies in case they get lost or damaged.
It should be no surprise that the banks will also have some standards that must be met once you have hopped over all of the VA's hurdles.
Bank/lender standards that must be met:
Minimum Credit Score

– The lender will determine a credit score that you must meet before moving on. This is a tricky step for some homebuyers and could often mean months or years of credit repair work before they are able to purchase their next home. Typically, a minimum 620 FICO is expected (but certain lenders can go down to 500 if certain conditions are met). If you need help repairing or building your credit, please feel free to use our trusted

credit repair resources

.

Steady Income

– Having a job at a single employer for at least the last two years is advised before getting into the buying process, but not mandatory in all cases. Steady income shows the lender that you have a way to make enough income to afford the payment on the home loan.

Debt-To-Income Ratio (DTI)

– Your debt-to-income ratio is calculated by taking all of your monthly bills divided by your monthly income (before taxes). This ratio is reported as a percentage. For example, if your monthly bills are $1000 and your monthly income before taxes is $4000, your DTI would look like this: $1000/$4000 = 0.25 or 25%. Your ability to fit the mortgage payment into the rest of the bills is important. Typically, for a VA Loan, a lender will look for a 69% DTI or better. Anything below 43% is optimal. There are some exceptions and a good lender will walk you through this process.
Once these standards have been met, you should be able to begin searching for your new home. You should also note that there will still be various fees involved in the loan closing process. If you can negotiate that the seller covers the "closing costs," it can save you a lot of money as you close.
Advantage of a VA Loan Offer
"My agent said sellers probably won't accept my offer because it's a VA Loan and I'm not putting any money down."
Sound familiar?
Below is an education piece you can use, regarding VA buyers, that may help you (and/or your real estate agent) explain to a seller why your VA Loan offer can actually be a better option for them to consider. It may or may not sway the seller's decision, but this, coupled with information provided in this article, could absolutely help.
"My client, Mrs. XXXX, has submitted an offer on your property. I'm sending you this letter to kindly ask that you take careful consideration when it comes to reviewing their offer.
Not only are they excellent, well qualified, and pre-approved borrowers, they are also a United States Service Member [or Veteran], willing to lay down their life for our great country. For this sacrifice, they have earned access to an excellent home loan.
Contrary to what you may have been told in the past, the VA Home Loan is one of the easiest and most secure loans to close in our industry. As an approved VA Lender, American Mortgage Network is able to ensure that these loans close quickly and smoothly.
Some important facts about VA buyers and the VA Home Loan process: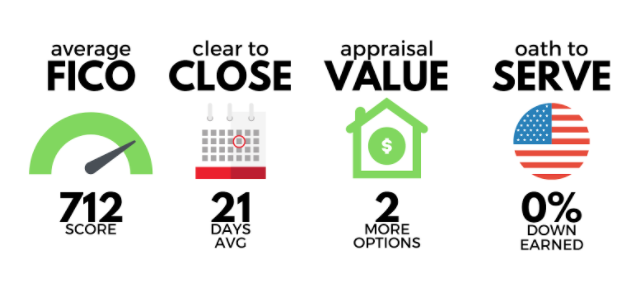 The average Veteran home buyer has a

credit score of 712

.

At American Mortgage Network, VA purchases receive a "Clear-to-Close" on average in

21 days or less

.

VA appraisals have

more flexibility

than Conventional and FHA appraisals, with

two

additional opportunities to come to value, allowing all parties to work together to override an appraiser's opinion of value.

A Veteran's time served protecting our freedoms

is

their "skin in the game". Their ability to purchase a home with

no down payment is a benefit earned,

not

a potential risk to financing.
Sincerely,
[Name of REALTOR]"
Not only could you consider using some of these points to make an impact on a party involved in the transaction who thinks otherwise, but we believe every real estate agent in the U.S. should understand and implement this stance.
Types of VA Loans
Before you shop for a loan, it is important to consider what type of VA loan product you might need. VA Loan types include: purchase, cash-out refinance, interest rate reduction refinance (IRRRL), rehab, construction or Native American Direct Loan Program (NADL).
Deciding which is right for you is pretty simple.
If you are looking to purchase a single family home under your county loan limit, you will need a standard purchase VA Loan. If the property exceeds your county limit, it would be considered a Jumbo VA Loan. Your lender will take care of this part, but it's good to know there is a difference.
If you want to build new construction, you'd need a VA construction loan, however not all lenders will provide these. It's common for Veterans to get short or long term financing from the builder or recommended local financial institution, then to refinance into a VA Loan. If you are Native American Veteran or married to one, you may also qualify for the NADL to build, buy or improve a home on Federal Trust Land.
If you want to buy a residential multifamily (2-4 unit), you would use the same conventional or Jumbo VA Loan, but you will need to consider financing limitations with your lender as specified by the VA. This is discussed at length in Military House Hacking.
The VA Lenders Handbook (VA Pamphlet 26-7) also mentions a VA rehab loan that is for "alterations and repairs". This loan is separate from the original VA Loan and can be simultaneously added when the primary residence is purchased.
Refinancing a VA Loan
Refinancing with a VA Loan can be simple and effective. Not only does the VA allow you to purchase a home with their loan program, but they can also let you refinance a home and potentially even send some cash straight to your wallet. They have a couple options when it comes to refinancing, and each will either lower the interest rate or give you a cash option to make repairs or upgrades to the home.
The two types of VA refinance loan are:
VA Streamline

– The Interest Rate Reduction Refinance Loan, often called the Streamline Refinance or "IRRRL", is just a refinancing product that allows the buyer to lower interest rates and take advantage of potential earnings, if possible. One of the best things about the Streamline is that it is a loan that requires no out-of-pocket expenses, and no re-appraisal of the residence. There are some stipulations, discussed in the interview with a lender, below.

Cash-Out Refinance

– A cash-out loan is for those homeowners who have built up equity and are looking to make some repairs or add-ons to their home, want to pay off other debts or just take cash out in case a good investment opportunity arises. This sounds like a home equity loan, but the difference is that the VA replaces your original loan, whereas, with a home equity loan, it is an additional loan atop your mortgage.
Whichever loan you choose, these are easy options that won't end up costing you a lot of money in the long run. One of the smartest things to do with a VA refinance is to create more buying power for future purchases. The refinance is a great way to build up equity and add value to your existing home.
Finding your eligibility level for a refinance is kind of similar to what you went through to get the original VA Loan. You will have to provide your DD-214, with honorable or other than honorable discharge, and your financial records to show that you can afford the new rate. There could be a few additional hoops, so keep the documents ready for any eventuality that might come up.
Choosing a VA Lender
Where and How to Get a VA Home Loan
Doing a Google search for VA home loans returns almost 40 million results. That can be a bit hard to sort through if you are starting from scratch. When looking for a lender there are a few things to know and understand about mortgage lending first, starting with the different types of lenders out there.

There are traditional banks, mortgage lenders, and mortgage brokers.
Traditional banks

are like the bank where you hold your checking and savings account – many of these banks will also finance a home. They tend to be convenient, but often you are just a number; one of thousands of files.

Mortgage lenders

, like our preferred lender,

American Mortgage Network

(AmNet), are neither too big nor too small. Personalized service with a great team to make sure lending is competitive with quality follow through.

Mortgage brokers

are independent agents who are working, usually in an office of just one employee (them!), to negotiate with wholesale mortgage lenders all over the country. They can give you great one-on-one service, but without a team to help you could run a small risk of your file being mishandled.
How experienced is the broker?
Working with someone who knows the process of buying a home with the VA Loan very well should be one of your first considerations. It can also be helpful if your loan officer understands the VA Loan not only from the lending side, but from first-hand experience. Finding a Veteran loan officer can add an additional layer of knowledge – your loan officer will understand the realities of PCSing as well the technicalities of the lending process. Find someone who has built a reputation for knowing every inch of the home buying process, but also buying with the VA Loan.
How fast is their process?
Turnaround time is vital in the buying process. Being able to have a contract and close with 21 to 30 days is the average wait time. If your lender has a slower time, they might be working with a larger firm that has more moving pieces to initiate the process. Be sure to ask this question so you know what to expect.
What is their interest rate?
As was talked about earlier, the VA has different rates depending on individual lenders. This improves your chances of getting a better deal and saving thousands of dollars down the road. Checking a lender's interest rate is one of the most significant parts of the searching process. Ask what fees and overrides they charge to see if there is anything you can compare to other lenders.
Who are the processor and underwriter?
Larger mortgage companies, especially banks, are often watered down to the point that you could never know, nor interact with, the loan processor and underwriter. Your loan officer will likely take your application but won't be the person handling the file in the background with a large bank. Make sure when you search for a lender that you know who will be handling your paperwork throughout the process. Mortgage lenders like AmNet have a dedicated team, meaning your loan officer, processor, and underwriter are a cohesive team who work together throughout the process, all having hands on your file throughout the lending period.
Do they know their "Section A"?
It's critical that a lender knows how the Section A portion of the home loan works. Section A is fees that could be due, from the buyer, at closing to pay for loan processing and other paperwork that could not be covered in the home loan. Nothing is worse than delaying a closing due to a lack of funds, so make sure to ask your loan officer and processor to explain in detail.
How easy is it to communicate with the lender?
Wouldn't it be nice if you could reach out at any time to your lender and speak with them? You can! Search for a lender who is at your disposal if any problems with financing or the home occur. Nothing is more frustrating than waiting on someone who is never around or difficult to contact.
Now that you know what to ask the lender, it is time to sit down and slog through a long table of results to see which company will work best with you. If you want a quick transaction, it would be best to work with a smaller company as they have fewer hands to pass through while processing the loan.
The Complete VA Loan Process
Get your "financial house" in order. Here's the blueprint to get you started.
Ensure your credit is where it needs to be to get the best rates.
Complete lending application.
Get your Certificate of Eligibility (lender can help).
Get pre-approved/pre-qualified with your lender.
Find an investor-friendly, educated, military, Veteran or milspouse real estate agent.
Start house hunting. Select your home or "military house hack" property.
Sign the purchase agreement.
Lender processes the loan application and "locks" your interest rate.
VA appraisal ordered by the lender.