VA Loan Eligibility
If you're considering using your VA Loan for a home purchase, you may be wondering if you are eligible. The Department of VA has specific eligibility rules for servicemembers and veterans to be able to use this awesome benefit. Before you start the VA Loan process, it's important to know the eligibility requirements.
VA Eligibility Requirements:
You or your spouse must meet one or more of the following requirements to be eligible for a VA Loan:
* Have served 90 consecutive days during wartime
* Have served 181 days of active service during peacetime
* You are the spouse of a service member that died in the line of duty or as a result of a service-related disability.
According to the Veterans Affairs website–to receive a COE as a National Guard or Reserve member, you should meet the following conditions:
Have served 6 creditable years in the Selected Reserve or National Guard (must have been honorably discharged)
Placed on the retired list
Transferred to Standby Reserve or an element of the Ready Reserve (other than the Selected Reserve after service characterized as honorable)
Continued to serve in the Ready Reserve
It's also important to note that to get a certificate of eligibility, the service member cannot have received a dishonorable discharge. If you received a dishonorable discharge, you might not qualify for a certificate of eligibility.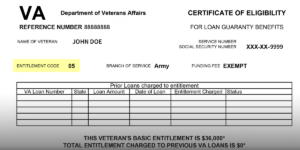 How to Apply for a Certificate of Eligibility
You may be wondering why you need a certificate of eligibility. A COE is an important requirement for lenders. This information ensures the VA Lender that you qualify for VA Loan Benefits. You don't necessarily need to have the COE in hand to start the process – VA lenders like ADPI's in-house lending team can pull the information when you apply. There are multiple ways to apply for a certificate of eligibility. You can apply using one of the following methods:
* Apply online through the MyBenefits Portal
* Applying through a VA-Approved Lender
* By mail using VA Form 26-1880
What Documents Will I Need?
Proof of service is required to obtain the Certificate of Eligibility. To prove past service, you'll need either the DD Form 214 as a veteran of active-duty military or the NGB Form 22 and NGB Form 23 for National Guard and Reserves.
Alternatively, if you are currently active duty or unactivated (Never Activated) National Guard or Reserves, you'll instead need a Statement of Service.

Surviving Spouse Eligibility
Eligibility as a surviving spouse will depend on if you've received Dependency & Indemnity Compensation. If so, VA Form 26-1817 must be completed and the surviving spouse must provide a copy of the Veteran's separation paperwork (e.g. DD 214). If you are not getting the Dependency & Indemnity Compensation, you can receive VA Form 21P-534EZ to submit to the state's VA Pension Management Center.
Surviving spouses will also need to provide proof of marriage, the veteran's death certificate, and separation paperwork.
Other Requirements
Although these requirements are specifically for the VA, private lenders will have additional guidelines that must be met to qualify for loans. Some of these guidelines include minimum credit scores, maximum debt-to-income ratio, and a minimum income for specific loan amounts.
Additionally, the potential home will go through the VA Loan Appraisal process, which will ensure the value is sufficient to be covered by a VA Loan. The home must also meet specific safety guidelines provided by the Veterans Affairs department.
Where do I start?
If you're looking for more information on the VA Loan process and obtaining your Certificate of Eligibility, our in-house lending team is ready to help! We would love the opportunity to earn your business and get you started on your journey to your new home!