We interviewed one of our in-house loan officers to get his rapid-fire responses on some commonly asked questions about the VA Loan. Here is the transcription:
Q1:
Why is the VA Loan so impactful to Vets and Active Duty?
Response: "Foot in the door, on average homeowners have 44x more net worth than renters, it's guaranteed by the US government, No Down payment required, No Mortgage Insurance required like FHA or conventional financing above 80% Loan-To-Value (LTV). All in all, it generates wealth for little to no money out of pocket."
Q2:
Who is eligible for the VA Loan?
Response: "Credit Score – As low as 500, Time in service – or discharged for a service-connected disability…During war, that's 90 consecutive active duty days served, (in) peacetime – 181 active duty days served, Active Duty – 90 consecutive days, Reservist or Guard – there are several factors, like "6 creditable years, but there is also a new Veterans Health Care and Benefits Improvement Act that includes va loan eligibility after a 30 day stint." Here is a more thorough breakdown of VA loan eligibility.
Q3:
How do you get a Certificate of Eligibility? 
Response: "Log into eBenefits.va.gov and follow the instructions or even easier, the ADPI lending team can help pull it for you."
Q4:
Is the VA Loan really 0% down? 
Response: Yes. It can be. 100% Loan to Value (LTV), but you might still have closing costs and a funding fee. The seller might be willing to pay for closing costs and the funding fee can be wrapped into the loan. And if you have a 10% or higher disability rating, the funding fee is waived. Discover the top 9 benefits of your VA loan.
Note: below is the latest VA Funding Fee chart for reference.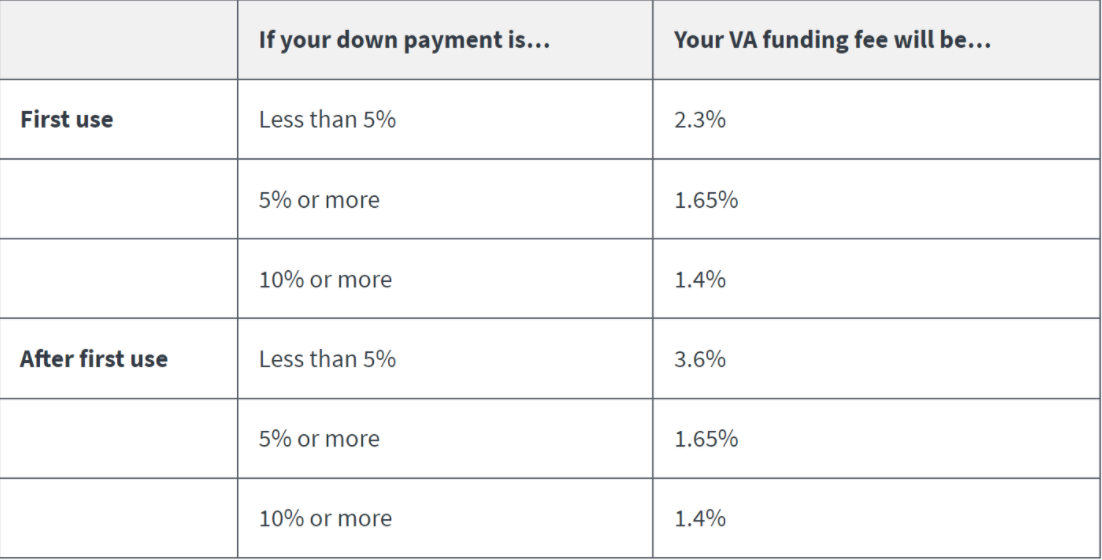 Source: va.gov
Q5:
Can you do a Cash Out Refinance of a VA Loan?
Response: Yes. it Can go up to 100% of the appraised value but most lender's have better pricing at 90% Loan-To-Value or less. They also still have to occupy home as primary residence. Learn more about VA loan refinancing.
Q6:
What about a rate reduction refinance? VA IRRRL
Response: The interest rate reduction refinancing loan is commonly called an "IRRRL", pronounced "Earl". It is just what it sounds like…a loan product to reduce the interest rate of a VA loan. The IRRRL has a 3 year recoupment rule which determines total monthly savings from new payment to old payment, divided into the actual costs incurred (va funding fee, lender and title fees, but escrow creation doesn't count). It also has a half percent interest rate decrease requirement and must be at least 210 days from the date of the first payment or 6 months, whichever is longer.
Q7:
 How Many VA Loans can a single service member or veteran have?
Response: "There's no limit unless entitlement is maxed out. Starting in 2020 the cap went away but if a borrower has an existing va loan then the easiest way to determine how much eligibility is left is to subtract the original loan amount from the conforming loan limit based on the county you are buying in. For example, the county conforming loan limit is $548,250 for a single family home in most counties, and you obtained your previous loan for $300k so then you have 248,250 left of a VA Loan amount to buy another home."
Q8:
 How many times can a single service member re-use their VA entitlement?
Response: "If the homes are sold then there isn't a limit. There is a one-time restoration of entitlement. If a Veteran refinances an existing home into a conventional or other non-VA Loan they can apply for a one-time restoration of entitlement. The thing to remember is that this is a one-time restoration so make sure to use it the best way possible. For example, if you have a VA mortgage on a home for $500k and you are PCS'ing to Virginia and want to buy a fourplex for $2 million on a VA Loan, you would first need to refinance that previous home into a conventional loan, pay it off, or sell it, in order to free up your entitlement.  A poor example would be if someone refinanced a VA loan for a $100k into a conventional loan and only wanted to buy the next home for $250k. In the last example the Veteran had enough entitlement to carry both loans at the same time and wasted there one restoration."   
Q9:
What are eligible property types for the VA Loan?
Response: Single family, condos, townhome, manufactured, modular, and multifamily – up to four units normally, but can also buy a property with a commercial space attached to it as long as the commercial unit doesn't exceed 25% of the overall square footage. 
Q10:
What's the maximum number of units you can purchase with a VA Loan?
Response: "Four, plus one commercial space if only using one VA entitlement.  If two vets are applying together there are ways to exceed this if the lender doesn't have an overlay, but it is rare to find a lender that will accept this type of financing." See how to finance a multifamily home with a VA loan.
Q11:
What is the VA Construction Loan?
Response: "There are two main types of VA Construction loans. One is a OTC (One Time Close) VA loan, meaning you get one loan at a fixed rate prior to the builder starting and your payments usually start once you can occupy the home. Another type is the more traditional construction loan that you get to finance just the costs to build the home and have usually purchased the land separately and then once the home is completed you refinance all the debt into one VA home loan. Not many lenders offer VA Construction Loans. There are some caveats like it has to be completed in 9 months, or the land acquisition cost cannot exceed a certain amount etc… In today's market of high material costs and lack of workers, it is likely in your best interest to find a home already completed to purchase. Once the market cools down a bit then a VA Construction Loan may be a better option."
Q12:
What is the VA Renovation Loan?
Response:  "VA Renovation loans are not easy to come by these days and the lenders that offer them usually put many constraints on them, so much so that it is usually better to get a different type of financing. The constraints can be as simple as a maximum loan amount of $100K additional in renovation work or more complicated like you cannot do anything that affects the foundation or studs of the home.  Other financing options that may be worth looking into are the FHA 203K Loan, which allows you to pretty much do anything to the property, including tearing down the home to the studs, or maybe a home equity line of credit [HELOC] if you have sufficient equity in the home and can pay it off sooner. Typically, according to the VA handbook, VA Renovation Loans are only meant for cosmetic type work and can't be used on more than 2 unit buildings. This is a separate loan from the VA Loan, where the lender will let you borrow up to the new value of the home's ARV (After Repair Value) or the total of the costs to complete the work, whichever is lower." 
Q13:
Is there a limit to your VA Loan?
Response: Technically, no, not unless you currently have an outstanding VA Loan. Most lender's, however, will cap you at $1.5 – 2 mil, but we have seen VA Loans as high as $3 million. There is a per county conforming loan limit that the VA will authorize funding or entitlement up to, then it's up to the lender to ensure the borrower still qualifies. If you currently have a VA Loan it is important to determine how much entitlement you have left to use. The way to determine remaining entitlement is by taking the original loan amount on the current VA Loan(s) and subtract it from the conforming county loan limit in the county you want to purchase a home. Most counties in the US have a 2021 conforming county loan limit of $548,250, so if you original VA loan was for $250K (doesn't matter what you owe on it now, only what the original amount was) then you subtract that from the $548,250 which equals $298,250 remaining of a loan amount you can borrow up to with no down payment required on the next home. 
You can exceed the remaining entitlement amount if you are willing to put 25 cents per dollar that you exceed the entitlement.  Using the previous example: If you wanted to buy a home for $300k then you would have to subtract the remaining loan amount of $298,250 from $300k, which equals $1,750, and put down 25% of that amount, which would be $437.50." 
Q 14
: How much credit can you get at closing from the sellers?
Response: 4% allowance for recurring and non-recurring closing costs that cannot go towards principal balance but can help pay down funding fee.
Q 15:
How do dual military spouses use their entitlements? 
Response: "If both entitlements are unused, then only pick one spouse's entitlement to use. It is a good option to leave the other's free for future purchases without a cap…or you can use both as long as they have enough entitlement left."
Q16:
What about unmarried co-borrowers? Split entitlements possible? 
Response: "If the lender allows it with permission of the VA, it is acceptable. And a non-veteran, non-spouse co-borrower may be allowable if the lender allows it and VA approves it. They would be required to put 12.5% down of the purchase price." 
Q 17:
What's the maximum Debt to Income Ratio Requirement for a VA Loan? 
Response: "Most lenders will go up to 69% DTI on the back end."
Q 18:
What are occupancy rules for the VA Home Loan?
Response: "[The eligible borrower] Must intend to occupy within 60 days of closing, as primary residence, cannot be a "second" or vacation home, cannot be an investment property. But if orders come in after closing and you have to PCS, for instance, then it's ok. This can also be delayed if orders are delayed. If you find out that you cannot occupy the home within 60 days prior to closing then you must inform your lender and delay or cancel your closing."
Q19:
Can I put my VA Loan home into an LLC? 
Response: "No. The VA loan cannot be in an LLC, you can sometimes retitle the property into an LLC, but you are technically not supposed to and this could cause the lender to call the note due in full."
Q 20:
Can a VA Loan be used on an investment property?
Response: "Not if the veteran will not live in at least one of the units. Remember, this is an owner-occupied loan product. If you have a property that you previously occupied and then turned it into a rental property, some lenders will allow you to still do a VA IRRRL (interest rate reduction refinance loan) even though it's not a primary residence anymore." Learn more about VA loans and investment properties.
Q 21:
Can future income of a multifamily home count as income for the Veteran? 
Response: "Yes, if the Veteran has at least a year of experience of being a landlord or a property manager that can be proven by tax returns or verification of employment of a property manager. And you can only count the units that will not be occupied by the veteran. The VA has made exceptions in the past by allowing a veteran without landlord experience to count future income if they are willing to sign at least a year contract with a property management company." Learn more about financing multifamily homes with a VA loan.
Q 22:
Can rental income be counted as income for veterans who want to obtain a new VA Loan?
Response: "Yes, if rental income can be proven through tax returns and lease agreements for at least two years for each property. If the properties were newly acquired and written permission is given from the VA, the income from the properties may be counted if the veteran signs an annual contract with a property management company and also has a current tenant under contract on the property."