VA loan water test requirements are mandated by both the VA loan and the lender. This requires the buyer to produce documentation showing the water is safe.
If purchasing a home that has cisterns, private wells, and shared wells you will be required to have water tests if using a VA loan. VA loan water test requirements are mandated for both the VA loan and the lender. It requires the buyer to produce documentation showing water is safe with a test that is completed within 90 days of closing.
In this blog post we will discuss testing, who can test the water,  timelines for what is mandated for testing by the VA and what you as the buyer are responsible for providing your lender. It is important to know that there are ways to maximize your budget for this testing all while ensuring your purchase stays on track and isn't delayed, keep reading for all of the information that will be helpful to maximize your timeline to close! 
What Do Water Tests Check for? 
Water tests check for an ability to meet federal standards set by the Environmental Protection Agency to show current water treatment is safe. This is to ensure that the tests detect the correct amounts of fertilizers, pesticides, florides, heavy metals and nitrates. The VA loan does not have a specific list of requirements; instead, they depend on water tests to ensure there is safe drinking water and overall safe water. This is determined by the water being regulated and tested to meet the federal and local health authority requirements. Some ways this is done is with water sampling tests and basic water screening tests.
Water Tests for Private Wells
For a private well, the test conducted will typically be an expense of the buyer, through a disinterested party. Ask your realtor about the negotiations that can happen with this test being covered by the seller, as it is a requirement for the sale. If the well supply is only for one home you can seek testing from your local health authority department or their employees. Fun fact, you can save time and avoid delays if you clarify with your lender if they need the water tested inside or outside of the house. Location annotated on your test results will save you headaches in the future. 
Water Requirements for Shared Wells & Cisterns
With a shared well, meaning there is more than one home on the water source the most common requirement to gain loan approval will be that the well meets both federal and local requirements. The water test should show the water is safe for all homes serviced by this water supply. The local health authorities can test for this and in many cases shared water sources have water testing that is completed on a schedule that will meet this intent using certified water sampling, formal well-shared agreements, and in many cases outsourced to independent contractors. Make sure to talk with your realtor and seek information from whoever manages the well, this could save you as the buyer from out-of-pocket costs!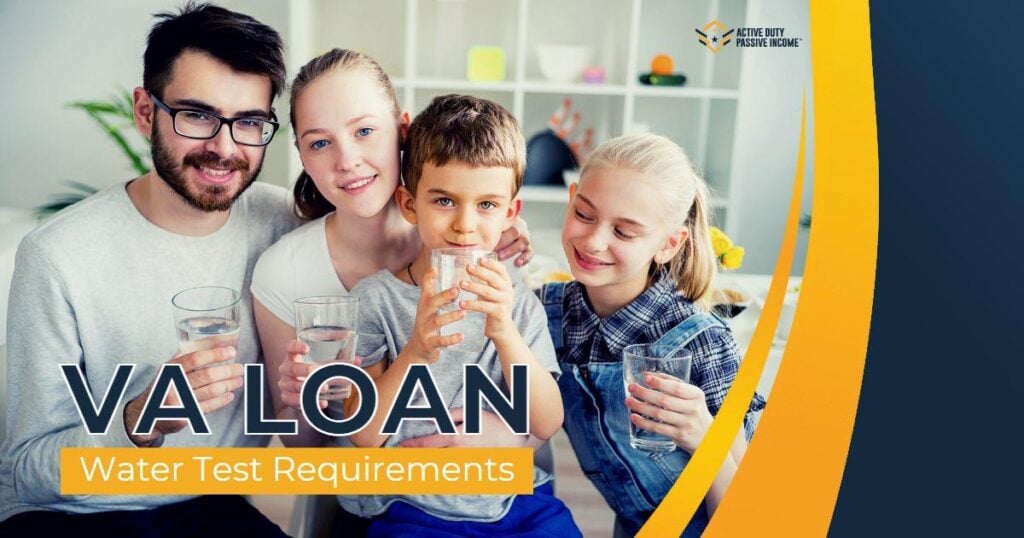 How long are VA water tests good for?
VA water tests are good for 90 days, make sure you are tracking the progress and timeline of your VA loan and getting your testing at the right time. Buyers using the VA loan programs may have a longer wait period from start to close with building from the ground up. Those doing a build from the ground up may want to pay close attention to their timelines. Being more prepared during initial testing will allow you to negotiate a discounted price on the second well test closer to closing. 
What if Well Water is Unsafe?
Unsafe well water can contain chemicals and be classified as unsuitable for human consumption. This is one of the factors that will be tested and checked by your water or well inspector. Many times unsafe well water will be found to have incorrect levels of fertilizers, pesticides, florides, heavy metals and nitrates which are used in surrounding areas of land. If this water is unsafe it could be the cause for the water to fail the inspection. 
When Water Doesn't Pass Inspection
So as you move along, what if the water testing doesn't pass the safety test for your dream home? Undoubtedly, one of the perks of using a VA loan is there are many checks and balances in the system to keep military families protected. With the lender having standards that must be met you will want to first find what is marked as unacceptable and start getting the conditions corrected. If you are still interested in buying the home, all is not lost if the tests come back with conditions. Read the paperwork carefully and seek guidance from your local health department about mitigation strategies as most well issues can be corrected with the proper water treatment. If there are any costs associated with this ensure to keep your realtor instep with any spending you do so they can ensure you are compensated correctly.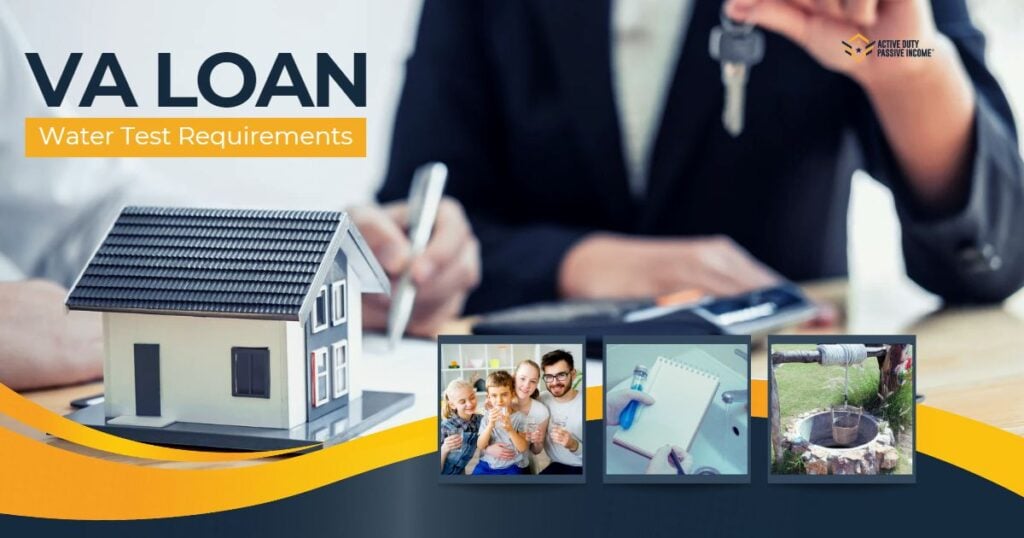 How Much Does Well-Water Testing Cost?
Well-water testing can cost from $200- $400, but possibly free as you may be able to find the documentation from the shared source management team, the owner of the home (remember most water testing will need to be no more than 90 days old) or your local health agency can give you estimates on their pricing. Local contractors are great resources to get commercial testing completed. Prices will vary from area to area, in most cases, rural areas have a surcharge for increased gas and travel expenses. 
Frequency of Well-Water Testing
Frequency of well water testing is suggested to be an annual event for both structural and water safety checks. This information is all the start of checking the box to make sure that your purchase is not only successful and smooth but it also provides you with a guide of where to start when looking to ensure you have safe water, drinkable water, and just simply clean water that will keep you and your investment protected from unidentified costs in the future. For more information as you move forward in preparing for purchases that have community water sources and private water sources make sure to look into your local health authority's additional requirements so all of your bases are covered. Last but not least make sure before signing up for any testing ensure that your lender gives you all parameters for the testing you are going to need!