Manufactured homes can use VA loans but mobile homes cannot use a VA loan. VA loans for manufactured homes will require special considerations from the VA.
In some cases sellers and real estate agents will refer to a manufactured home as a "mobile home". It is important to understand what the home is because you can use a VA loan on a manufactured home but not on a mobile home. You need to know what the structure is considered. Let's chat about the differences so you as the buyer can understand your opportunity to use your VA loan for a manufactured home which is sometimes mistakenly called a mobile or trailer home! 
In this short read, you will understand what is considered a mobile home vs a manufactured home. Buying a manufactured home with a VA loan does have some items to consider and definitions that will be important for you as a buyer to understand. Ensuring the land where the home will be or is currently placed is an important part of the VA loan process.
Continue reading to better understand what you will need to walk through the purchasing process of your manufactured home. When utilizing your VA loan it is important to define upfront what the structure is, mobile or manufactured. Once establishing that the home is a manufactured home you can move forward to buy the property and home together within the guidelines for your VA loan benefits.  
What is a Mobile Home?
Mobile homes are often referred to as trailers. The National Mobile Home Construction and Safety Act that was passed in 1974. This is the time frame when manufactured and mobile homes were separated in the name. This timeframe is a helpful production time frame for someone wanting to understand if the house they are looking at is a mobile home or a manufactured home. Mobile homes were first created for people who needed to have affordable housing that was easily moveable to job sites and different land. Many items were brought up to what we now consider a safer code during the 1970s when the U.S. Department of Housing and Urban Development (HUD) Code came about. Followed by the Housing Act of 1980 the name of the mobile homes transitioned to manufactured homes. When the transition happened from mobile to manufactured homes buyers and lenders began to better separate which regulations the house was built under. The house needs to be identified as a manufactured home to use your VA loan benefits. 
What is a Manufactured Home?
Manufactured homes are typically considered prefabricated homes built after 1976 and can be considered to be purchased with a VA loan. In some descriptions, they are referred to as modular homes. These structures are typically built at an offsite location and then transported to their new location, usually to a permanent foundation. They are constructed by strict standards set by the U.S. Department of Housing and Urban Development (HUD). This means the structure must meet certain safety requirements, such as construction materials and size limitations. With a pier and beam foundation future movement of the home is more plausible, where some owners choose a more permanent crawl space or basement foundations. Understanding what foundation the home is affixed to will be important to your lender because it must be permanent for the VA loan, which at this time both pier and beam and basements are considered permanent. 
What is a Mobile Home Loan?
Mobile home loans are financing options that include mortgages, chattels and personal property loans. Depending on the type of financing you can qualify for you do have options for financing a mobile home. Chattels typically allow for someone to get a lower interest rate with a shorter pay off time. Some lenders will offer mortgage products for mobile homes with their own criteria. A personal property loan is also an option for a mobile home in some cases. All of these types of financing will include some requirements to be met.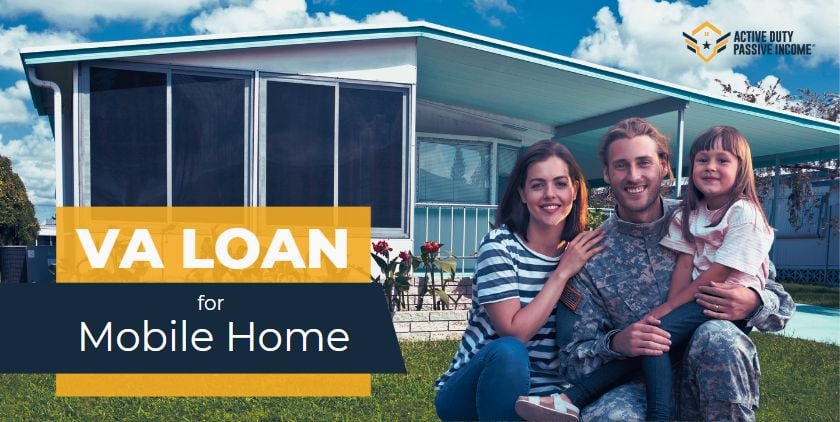 Loan Terms for VA Loans for Manufactured Homes
Loan terms for manufactured homes will take into account the total purchase price of the manufactured home unit and the lot, the cost of all other real property improvements, and the VA funding fee. From the VA lenders guide you will also find the option for the purchase price of the manufactured home unit, plus the cost of all other real property improvements, plus the balance owed by the Veteran on a deferred purchase money mortgage or contract given for the purchase of the lot, plus the VA funding fee. Manufactured homes come with a "HUD tag" or "red tag" located typically under the kitchen sink or in a closet. If this cannot be located you will want to talk to your lender to right away to see if they will accept any other proof that the structure is a manufactured home.
Can I Use a VA Loan for a Mobile Home?
VA loans are not for mobile homes. For veterans and military personnel looking to purchase a modular home, you may be eligible for a VA loan. VA loans are government-backed mortgages that can help cover the costs of buying a manufactured home. Understanding the specifics of your eligibility and what is needed to qualify can help make the process easier. Read on to learn all about how VA loans work for manufactured home purchases. 
Am I Eligible for a VA Loan for a Mobile Home?
No, you cannot use the VA loan for a mobile home but you can for a permanently affixed manufactured or modular home. Remember, some people incorrectly refer to manufactured homes as mobile homes and trailers. Make sure you know the difference! The US Department of Veteran Affairs offers VA loans specifically designed for those who want to purchase a manufactured home as their primary residence.
Stricter Credit and Debt Guidelines
Stricter credit and debit guidelines are not necessarily going to be a challenge for a lender assisting a buyer using their VA loan benefits. It is important to have a conversation about your purchase being a manufactured home, as some lenders will not support using a VA loan with a manufactured home. When using the VA loan most lenders will have qualifying requirements that you should indeed check before moving forward with an offer.
Must be Classified as Real Property
For the VA to support the purchase of a manufactured home the real property improvements will be taken into consideration for the calculation of the loan amount that will be granted to the buyer. Lenders will have more specific criteria to meet their standards to fully obtain approval. 
Must be on its Own Lot/Property
Manufactured home purchases using the VA loan will need not need to be on a previously purchased piece of land, lot, or property. The amount of land owned, or the purchase of the land will be taken into consideration by the lender to execute the VA loan amount.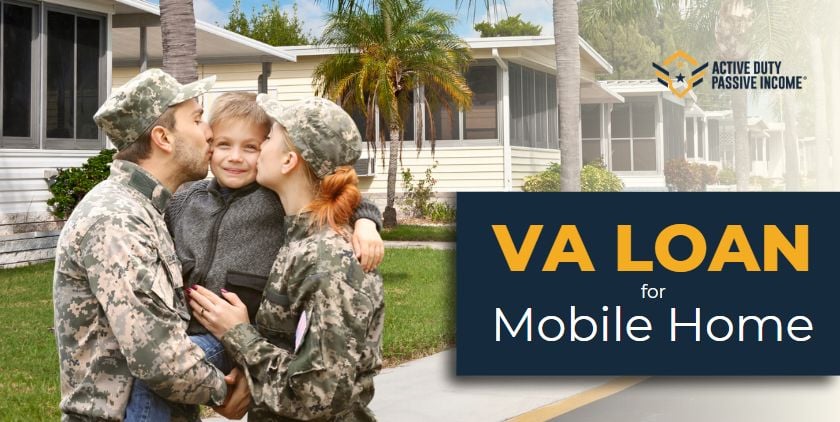 VA Mobile Home Loans Specifics
Property Requirements
Property requirements for a manufactured home purchase using a VA loan are typically treated the same by the appraiser to include that the property will be or is owned by the buyer. The appraiser will evaluate the VA's mandatory requirements 
all running gear is removed

crawl space is covered by a vapor barrier with vented permanent masonry skirting

skirting has an access hatch

home is secured to a permanent foundation that meets state and local requirements.
Higher Down Payment
Higher down payments on a VA loan for a modular home should not be expected. When considering a lender you should ensure that the lender will be able to support using a VA loan on a manufactured home purchase. 
VA Loan Purchase of a Manufactured Home
VA loans for manufactured homes come with certain specifics that may make them more attractive than other types of financing options. One key benefit is that there are no down payments required with VA loans. For borrowers to qualify for this type of loan they must own the land/property or intend to buy the land where the unit will be located since it must be classified as "real property" rather than "personal property". This will mean that the unit must be affixed permanently on a lot/property for it to meet eligibility VA guidelines. 
Getting approved for a VA loan for your manufactured home can be done! If you're looking at purchasing a mobile/manufactured home make sure to understand the terms of what the house is classified as, manufactured (allowed to use a VA loan) or a mobile home (not acceptable home to use a VA loan).
Understanding all the specifications involved can help make sure you get the best deal possible. By understanding what's required upfront, you'll be better able to prepare yourself and your lender before applying for one of these valuable government-backed loans specifically designed for veterans and military personnel who want to purchase their own manufactured homes as their primary residence. With that knowledge in hand, you'll be well on your way toward living in your dream home or maybe even your next investment property when you move on!