Real Estate Investing Success Story by Dion McNeely
I started as a TOW gunner in the Marines during Desert Storm. I came home to divorce and ended up a homeless single dad. The military was downsizing after the first gulf war, so re-enlisting wasn't an option. I tried a few different jobs after getting out and finally became a truck driver once I got my CDL.
I remarried and had two more kids–then divorced again. I am good at keeping custody, but not so good at keeping a wife. I inherited $89,000 of bad debt from this marriage that I did not know existed. It took me six years to get out from under that.
After that, I became a police officer but was let go during the 2008 financial crisis. A lot of police departments were laying people off at that time since municipalities get their funding for officers from city revenues.
In 2009, I was tired of losing jobs because of circumstances out of my control. I owned a house I had purchased with my VA loan and then refinanced during the divorce to pay off my ex-spouse's part of the appreciation. I knew I wanted to get into rental properties. I was a single dad and working as a truck driving instructor at the time. I wanted to make sure I could handle being a landlord and managing a rental. So I moved into an apartment and rented the house out.
I made the mistake of renting to a friend because I didn't treat it like a business. My friend also had kids and quickly started to fall behind on the rent. When he stopped paying, I went to the house to talk face-to-face. I found out he had moved out, rented the house to someone else, and was collecting rent from them and keeping it. I tried to work with the new tenant, but she also didn't pay. I only collected a total of $700 in about a year.
I basically gave up. I tried to give the house away–but with the housing crash, I was underwater on the loan. I owed 138K, and comparable properties were going for 110K. I finally found someone who could take the house. It was a single mother who could keep custody of her kids if she got a house in the same school district. I thought I had found the perfect person. She would take over payments, get to keep custody, and then I could be done with the house. Then, she ran into funding problems because of bad credit. The lender told us that if she made 12 payments, they would finance her. She was working two jobs, and in the tenth month, she lost one of them. The job she kept paid enough, but it was as a bartender, so tips were not recorded on taxes–again, she did not qualify for a loan. We tried for another year, then inherited a house and moved into it. She no longer wanted my house.
Luckily at this time, I found the holy grails of books. I recommend these to everyone I have helped reach financial freedom:

I decided that since I had seen how being a landlord was when you have a good tenant–I would go for it. This time–I would treat it like a business.
I tried to find another single-family house in my area, but it's hard to find good ones that cash flow. They sell for $300k and rent for $1800. Meanwhile, a duplex sells for $300k and rents for $2600
I purchased a duplex using an owner-occupied conventional loan (with 5% down), then rented out the house and the other side of the duplex. I used cozy.co to find and vet tenants. I chose a conventional loan over FHA because it is easier to get the mortgage insurance (PMI) removed once there is enough equity. With an FHA, it takes refinancing to take the PMI off.
The apartment was costing me $1535 a month. When I moved into my first duplex, it lowered my housing costs to $300. I rented the house to a section 8 tenant, and it started cash flowing $600 a month. House hacking vastly increased my saving rate. A few years later, I added another duplex to my portfolio. This time, it was an investment with a conventional loan with a 20% down payment. This duplex cash flowed $900 a month. A year later, I added another duplex. This one cash flows $850 per month. I was now making $2350 and only paying $300 for housing.
At this time, I had four mortgages. My strategy is to keep four. This way, I can benefit from leverage, but I am not over-leveraged. I also focused and paid off the SFH. It now cash flows $1300 instead of $600. Then I started saving again.
At the end of 2019, I purchased my next duplex with another 20% down conventional loan. With the SFH, three duplexes, and the other units at the fourplex, I receive over 5k a month after all expenses. I also save 10% of rents for repairs and maintenance and 5% for vacancies.
Since I house hack, I do not spend anywhere near 5k a month for living expenses. 100% of my W2 income is saved for the next deal. Along with $1,000-$2,000 of rental income. With 11 units, I never "have" to work again. I still work because I love what I do.
I now have no bad debt and am financially free–all because of house hacking!
I structured my portfolio to be ready for a prolonged government shut down, pandemic, or stock market crash. I was virtually untouched by COVID even though my company shut down for a month and a half. Here is how I protected myself and my properties:
1) I specifically look for properties more than ten miles apart but within an hour's drive since I self manage. I make sure each property is close to at least two of the following: A base, port, hospital, college, or a Boeing or Amazon terminal. I also search for locations with a population of at least 100k. This way, I have more than one source of tenants and economic drivers.
2) I keep my tenants as diversified as possible; I have some military families, some section 8 tenants, and some retired tenants.
.3) The purpose of only having four mortgages is that every time I pay a loan off, the gap between rental income and mortgage expenses gets wider and wider.

As a Marine, truck driver, or a cop, I wasn't making six figures. It took eight years to reach financial independence once I started with small multifamily. It doesn't take luck–it takes knowledge and a plan.
Since I do not have to work for money, I founded a nonprofit that provides job placement assistance. I get to help people since I didn't have to work just for money. Check out the flyer below for more information.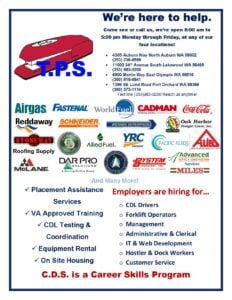 Thanks for reaching out. I hope we can help more people reach financial freedom.