You may be wondering if it's possible to buy a second home with a VA Loan. If you're looking to use it as an investment property or vacation home—the answer is no. This is because the VA requires borrowers to occupy the home to qualify for a VA loan. But what if selling your first home is not possible and you need to purchase at your new duty station. How does that work?
Buying a Second Home with a VA Loan
The VA Loan program features a "second-tier entitlement" or "bonus entitlement" for exactly this reason. You can't buy a vacation home with your VA benefits, but you may be able to buy a second primary residence. To be able to qualify for another VA loan, you are required to live in the new residence for at least a year. In most cases, you'll need to be moving to a new duty station, but there are exceptions—as long as you can prove a "net tangible benefit":
Purchasing a larger home because of a growing family.
Moving closer to work.
If your spouse lives out-of-state, purchasing a home for your spouse to live in.
Buying a smaller home because of divorce or a drastic change in your financial situation.

How to use the VA Bonus Entitlement to Buy a Second Home
We'll do an example to explain how the entitlement works: If you bought a home for $200,000 with no down payment, that uses $50,000 worth of your entitlement (1/4 of the price because the VA only guarantees 25% of the purchase price of the home).
If you have trouble selling (or can't sell) and need to rent the home out, that $50,000 of entitlement is still being used. This information is available on your Certificate of Eligibility (COE) provided by the VA.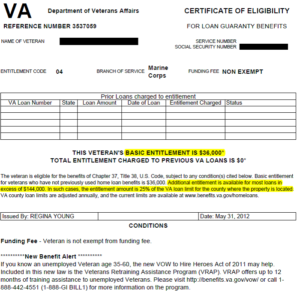 Here's how you can calculate your bonus entitlement if you're moving to where the loan limit is the common $510,400 and you're looking to buy a home for $250,000:
If you multiply $510,400 x 25%, you get $127,600. Now, remember that you have already used $50,000 from the first VA loan purchase. So, $127,600 – $50,000 would be $77,600.
Don't panic! It doesn't mean you only have $77,600 to buy a new home! The VA permits you to borrow up to four times the amount available on your entitlement. So, $77,600 x 4 is $310,400. If you stick to your $250,000 budget, you're under the maximum entitlement and can purchase without a down payment. If you would like to purchase a home over $310,400, you can do that — but you will have to do a down payment of 25% of the difference (e.g. You purchase a home for $400,000. $400,000 – $310,400 = $89,600. $89,600 x .25 = a $22,400 down payment would be required.) Also, if you're purchasing in higher-cost areas such as California, Washington, etc, your entitlement would be higher.
When using your second-tier entitlement, there's a catch–you are required to have a loan amount above $144,000. You'll need to borrow at least this much to use your entitlement again. It's also important to know that since you're using the VA loan a second time, your VA Funding fee will increase from 2.3% to 3.6%. If the funding fee is rolled into your loan, this may affect your total loan amount.
There have been some VA Loan changes for 2020. You can hear about them on the ADPI Podcast.
What if I sell my home? Do I get that entitlement back?
A lot of people (including myself!) assume that you automatically get your entitlement back when you sell the home. That's not necessarily true! The restoration process needs to be done by the veteran, but paperwork can be done online or by filling out a Request for COE (VA Form 26-1880) to the regional VA processing center.
Other Considerations for Using a VA Loan to Buy a Second Home
For your first VA loan residence that you're renting out, most lenders will require you to have a lease signed and a security deposit to cover the first VA loan mortgage payment. Even though having that renter helps, you cannot use the additional income to help qualify for the second VA Loan.
Remember, you can't use the second VA loan as an investment property. You must meet the VA occupancy requirement, which will require you to occupy the home within 60 days of purchase.
What if you've previously experienced a short sale or a foreclosure? The second tier entitlement makes it possible to purchase after these–provided the loss has been repaid and you still have entitlement left over after that purchase.
Even if you can't use the second VA loan for a vacation property or an immediate rental property, there are still loads of benefits to being able to use your VA loan more than once. Having the ability to purchase homes at multiple bases can set you up for awesome success. Be sure to talk to your favorite lender and take advantage of this wonderful benefit!
If you're looking for an amazing lender, ADPI offers an amazing in-house lending team that can help you: https://www.activedutypassiveincome.com/connect